Assessment Center Overview
Identifying, developing and training top talent are the keys to success in today's competitive world. If you're read Good to Great by Jim Collins or TopGrading by Bradford Smart, you know that having the right people in the right jobs can make the difference between GOOD and GREAT companies, maybe even failure and success!
So, how do you select and retain top talent for our organization? We believe you do so by conducting structured behavioral interviews based on information available from resumes, background or reference checks, AND the use of highly validated and effective assessment tools that measure the behaviors, values and competencies necessary to achieve success for your organization.
That's why we've put together a complete line of highly validated assessment tools to assess existing or potential employees. Whether you are hiring associate level employees OR executives to chart the course for your organization, we will provide you with the right assessment tool or tools to identify the competencies, behaviors, and values critical to hiring the right person and making your organization great.
We use the U.S. Department of Labor's guide, Testing and Assessment: An Employer's Guide to Good Practices to evaluate and recommend the assessment tools we offer our clientís and recommend that our clients review this guide to insure that their hiring practices are consistent with the guidelines provided by the DOL.
For more information about our assessment services, please feel free to contact us.
Summaries of the tools we have available are listed below. We believe that assessment tools should be chosen and implemented based strictly on the needs of our clients.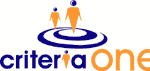 CriteriaOne™ is your most reliable and predictable solution for hiring the right people, building the best teams and keeping your top talent motivated. By following the CriteriaOne process, human resource and hiring managers can safely comply with the Department of Labor's hiring and employment guidelines while predictably identifying candidates and employees who have the right competencies (what skills employees need to know), proficiency (how well employees can apply what they know) and motivation (will employees apply what they know) for any job.
Using CriteriaOne, we partner with our client organizations using the job description (if available) and a 3-step job audit called ACT to evaluate the hard and soft skills, attitudes, general abilities, motivations and personalities required for optimum performance. Information about what differentiates the organization's top performers from average performers or high turnover employees from long tenure employees is acquired using a package of performance assessments. When the process is complete, our clients are able to hire new associates and promote existing associates based on job matching. Job matching will significantly improve sales productivity by shortening revenue ramp up time for new hires and promotions. CriteriaOne has been proven to reduce churn (turnover less that 14 months) in high turnover industries by 50 percent and in low turnover industries by 75 percent. In summary, job matching with CriteriaOne improves safety, morale and quality and extends the tenure of top performers.
DISC: Often referred to as the universal language of behavior, the DISC is a behavioral assessment that gives us insight into how we respond to problems and challenges, interact with and influence people, react to the pace of the environment and respond to rules and procedures set by others. An excellent adjunct to other hiring tools, DISC can help you ensure that the natural behavioral tendencies of any candidate are or are not consistent with the behavioral requirements of the job.
When used as a part of leadership development and team building, the DISC is an excellent resource for helping team members better understand one another and why they approach problems, people, the environment and procedures differently. In other words, it helps create awareness, acceptance and understanding. And better understanding of our differences, leads to better communication, more effective team work and improved customer service.

GPS: A fully integrated suite of assessment tools, the Personal Global Profiles System or GPS, provides insight into a variety of personal characteristics found to be important in the successful completion of any job.
The GPS Motivations Suite includes a detailed look at what motivates individuals from the perspective of the own personal needs, their values and their interests. The GPS Capabilities Suite focuses on job specific knowledge, skills and experience as well as 93 specific capabilities that are transferable from one situation to another. This analysis identifies our level of strength for each of the 93 capabilities, the level of difficulty associated with developing each and the length of time required to do so.
The GPS Capabilities Suite also provides an analysis of our willingness as well as our ability to effectively deal with changing, unfavorable, difficult, new and ambiguous situations. Research has clearly shown that this dimension has become increasingly important for personal success in our ever changing world.

The Hartman Value Profile: Byrum Method (HVP) is unlike any assessment instrument available in the market today. Where other assessment tools measure personality traits, attitudes or behavioral style, the HVP provides insight into an individualÕs personal value system. Our personal value system is not something we have…it represents who we are. What we value evolves as people and events influence our lives, and these ÒvaluesÓ become the lens through which we see the world and make decisions.
Our values are manifested by the judgments we make and in the way we "figure things out". The primary intent and purpose of the HVP is to gain insight into the judgment capacities of individuals. Without question, good judgment will be a determining factor in how a person functions in the workplace. By assessing an individual's value system, the HVP determines whether, and to what degree, a person has good judgment.
Simply put the HVP is about strength. Not the kind of strength that involves lifting weights or running great distances but strength of judgment. As is clear from the many applications of the HVP, the capacity for good judgment is often a rare quality that, when combined with good skills sets, allows for excellence in outcomes and results.
For individuals and groups, the HVP will provide critical feedback in three areas:
Intrinsic people skills and relational judgment–how the individual will deal with and treat customers/patients, employees, and co-workers.
Extrinsic task orientation and work ethic–does the individual have a strong work ethic and are they task oriented.
Systemic ability to see broader perspectives, implications and consequences–the "big picture" or broad vision perspective of where a department or organization should go.
The HVP has been successfully used for almost four decades. It has been validated in every sort of validation process that is important to insure that the instrument is fair, unbiased, and is free of age, gender or racial prejudices. In 1973, Dr. Robert S. Hartman, the developer of the HVP, was nominated for the Nobel Prize for his amazing body of work.

The SELECT Associate Screening System is a family of pre-employment screening tools designed specifically to measure important, work related behaviors in applicants for associate level positions. Using SELECT, employers can quickly and easily screen for characteristics associated with service attitudes, frustration tolerance, integrity, productivity and service to others. Developed by psychologists and validated for specific jobs and industries, the Select family includes tests for Administrative Assistants, Call Center personnel, Health Care personnel, Production and Distribution personnel, Retails Sales Associates and Customer Service personnel. Each customized report provides a Validity Check and a step-by-step interview with recommended interview questions.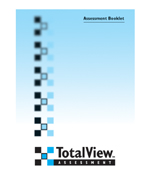 TotalView™ is a highly valid and reliable assessment and benchmarking system for selecting new employees, coaching current employees and planning for retention and succession. Using the TotalView system, you can establish sound benchmarks, unique to your organization, that define your criteria for high performance. Using these unique benchmarks, you can then more effectively select and develop people to the jobs in which they will be most proficient and effective. The TotalView assessment includes measurements of an individual's General Abilities, how quickly they learn and can solve problems, Motivations and Interests, their stated desire to work with people data and things and Personality, the key personality traits or characteristics of a candidate. These abilities, motivations and interests and personality traits are then compared to those traits or characteristics evident in people who perform well in the job.
Once the TotalView assessment has been completed, you can generate different reports designed for Selection, the Individual, Coaching and Succession Planning at no additional charge.
Workplace Motivators:- Ever wonder why some people are highly motivated by $$$ and others are not? The Workplace Motivators survey provides great insight into what motivates us to behave in the way that we do. Simply put, our top two or three values or attitudes move us into action and when you and your employees understand their top two or three attitudes, you will both move more quickly toward the achievement of your potential. The six values or attitudes measured by Workplace Motivators are:
Theoretical: the search for truth and knowledge
Utilitarian: the desire to realize a positive return on their investment of time and resources.
Aesthetic: a strong appreciation for beauty, form and harmony.
Social: the commitment to help others.
Individualistic: the desire for recognition and power.
Traditional: the search for meaning in life.