Targeted Training, Improved Results
Effective communication and personal accountability are the foundation of customer driven organizations. When you improve communication and eliminate blame, complaining and procrastination, you'll experience improved productivity, greater teamwork, reduced stress, healthier relationships and better customer service.
QBQ! The Question Behind the Question
Improved Productivity, Greater Teamwork, Reduced Stress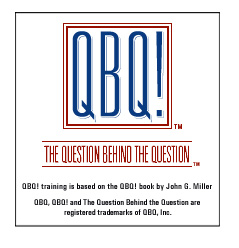 Because accountability matters, we strongly feel that personal accountability is the foundation of successful sales and customer service for any organization or industry. When you overcome victim thinking, blame, complaining, and procrastination, your company will experience improved productivity, greater teamwork, reduced stress, and better customer service. The goal of the QBQ! workshop is to eliminate common individual and team-destroying thinking such as:
Why don't others pull their own weight?
When will that department do its job right?
Who dropped the ball?
We've always done it that way.
Why wasn't I told?
That's not my area.
And to enable the individual to take personal accountability by asking his or her self:
What action can I take today to help the team move forward?
How can I better understand what they mean?
How can I do my job better today?
What can I do to improve this situation?
Achieve excellence through accountability! We show your employees how they can make better choices by teaching them how to control their thinking process utilizing the QBQ! technique. This builds a foundation of personal accountability and ownership inside each person.
About the Workshop
The book, QBQ! The Question Behind the Question, when combined with the fun and engaging one-day workshop delivers a very powerful message! The QBQ! workshop is a video based complete training and development system facilitated by Joy Ruhmann or you can license the material and have it facilitated by internal trainers. The workshop is broken down into four modules: 1) QBQ! A Tool for Leader at All levels; 2) The "How To" of the QBQ!; 3) Personal Accountability in Action; and 4) QBQ! Creativity and Integrity. Although we highly recommend that you run it as a one-day workshop, it can be broken down into (2) four-hour workshops. Each participant receives a 56-page visually stimulating and easy-to-use program workbook to be used during the workshop, two audio CD's containing the entire training system soundtrack, a QBQ! pad, pen, and a copy of the book, QBQ! The Question Behind the Question! The QBQ! workshop is practical, universal and timeless because personal accountability applies to people and organizations in every segment of the market. For a sneak peek of the video based system, click on the links below:
Have More Questions?
.(JavaScript must be enabled to view this email address)
.
Communication: It's All About Style!
Improved Relationships, Improved Communication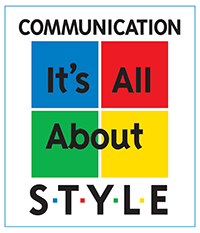 Effective communication stems from the right combination of tone of voice, words, body language and pace of speech and actions. Our tone of voice, words, body language and pace of speech and actions are all directly impacted by our unique behavioral style. Our unique behavioral style then directly impacts:
How we respond to problems and challenges
How we interact with others
How we react to change and
How we view rules and procedures.
These four areas are the components of an individual's behavioral style. In this workshop, we use a personalized DISC-based assessment as the foundation of this highly personalized, highly interactive one day training program focused on teaching your employees to use the DISC language as a way to:
Better understand their own behavioral style.
More effectively interact with others by recognizing, understanding and appreciating the behavioral styles of their co-workers and customers.
Adapt their style to the style of others for improved customer service, communication and relationships.
To request a personalized, complimentary DISC report,
click here
.
Subscribe to Accountability Matters.

In my 20 plus years experience in executive education, most development programs focus on the acquisition of organizational knowledge, operational systems, and business tools. Little time is devoted the leader's self discovery. Ironically, the greatest programmatic impact I have personally experienced, and witnessed, has been through the exploration of the impact of self on the leadership role. Rich Ruhmann does a masterful job of guiding even the brightest and most skeptical leaders through a process where they come face to face with the ways in which they sabotage their own efforts. And importantly, Rich helps leaders draw on their unique strengths to improve their effectiveness. Significantly improved partnerships across disciplines, more authentic relationships with subordinates, clearer communication, and more deliberate team decision-making are some of the visible successes of Rich's work across the Yale New Haven Health System.
Dr. Michael Pepe
VP and Executive Director, Institute for Excellence
Yale New Haven Hospital